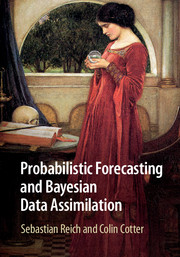 Probabilistic Forecasting and Bayesian Data Assimilation
My new Book!
Sebastian Reich
Lehrstuhl für Numerische Mathematik
-Address: Institut für Mathematik, Universität Potsdam, Karl-Liebknecht-Str. 24/25, D-14476 Potsdam
- Tel. +49 (0) 331 977 - 1859
- Fax +49 (0) 331 977 - 1001
- E-mail sreich@math.uni-potsdam.de

I hold a part-time appointment with the Department of Mathematics at the University of Reading and I am an honorary professor at Imperial College London. I am a member and chair of the research committee of the EPSRC Centre for Doctoral Training Mathematics of Planet Earth at the University of Reading and Imperial College.

The DFG has established the Collaborative Research Center SFB 1294 Data Assimilation - The seamless integration of data and models at the University of Potsdam (coordinating university) jointly with the GFZ, WIAS, TU Berlin, HU Berlin, University of Magdeburg in July 2017 for an initial period of four years. I am the speaker of the center.

I also participate in the Collaborative Research Centre SFB 1114 Scaling Cascades in Complex Systems at the Free University Berlin (coordinating university), Technical University Berlin, WIAS, GFZ, and the University of Potsdam.

Designed by Kasimir Reich
Mid 2015